Mission Counseling and Guidance
My name is Kristi Locke , and I am the School Counselor here at Mission Elementary.Our counseling program here at Mission provides many different services for our students. A few of these services are:
Individual counseling

Group counseling

Classroom guidance lessons

Academic improvement strategies

Consultations with families
If you have any questions about how our counseling program can help your student, please feel free to contact me by email or phone. My schedule varies daily, so please call me any time between 7:30 and 3:40 Monday through Friday. If I'm not available, please leave me a message and I will get back with you as soon as I can.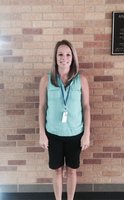 I have taught 4th grade for 9 years at Mission, and this is my fourth year as a school counselor. I received my Bachelor's Degree in Elementary Education & Early Childhood from the University of Science and Arts of Oklahoma in Chickasha in 2006 and my Master's in Education Degree in School Counseling from Southwestern Oklahoma State University.