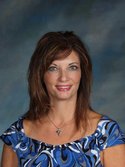 Message from the Principal
On behalf of the faculty and staff at Mission Elementary I want to welcome you to our website. At Mission Elementary we continually strive to increase student success by providing a strong link between the faculty, students, parents, and community. We strive to provide a safe environment for our students making it more conducive to learning.

At Mission we pride ourselves in providing a quality education by following the Literacy First and Everyday Math programs. We continually work to provide more support to struggling students by incorporating the Response to Intervention program. This allows us to intervene early in a struggling student's education to provide them with the best opportunity to learn and achieve excellence with their educational experience. We strive to provide a diverse education by incorporating quality music, physical education, and computer classes.

We are excited about the future of Mission Elementary and want to ensure the best education experience for our students. We cannot achieve this alone. Parental involvement is of the utmost importance to us here at Mission Elementary and pivotal in your child's learning experience. We willingly urge all parents to visit our building often. We appreciate your involvement in your child's education and look forward to seeing you in the coming year!